3/1: New this week at Smoke Signals Online…
First, just an apology that we've been away for a bit – among other things, a horrendous case of the flu (plus some other ailments) had us out of commission for longer than we can ever remember. We're glad to be back.
This week at Smoke Signals Online, the Smoking Fetish Megasite, we've got nearly 550 new photos and 24 minutes of new video. In the photo galleries, three terrific smokers – Sara P. Carolina C. and Trish K. – share Carolina's Newport 100s as they hang out on the bed. And Laura-Jayne is on the phone, in panties and t-shirt; we see lots of talking exhales, mouth exhales and some dangles – plus double drags – as she talks.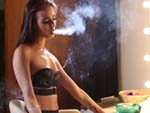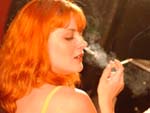 In the video galleries, Janey is featured in a terrific shoot, showing us deep drags, snap inhales, nice thick mouth exhales with some smoke play, dangles and smoke rings as she checks out her wardrobe. We also have a casual shoot with Nancy C. with slow and elegant smoking, with cone exhales, some nose exhales, and lots of smoke rings.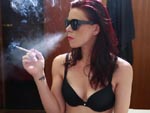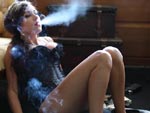 You can see sample clips here and here.
Smoke Signals Online – come check it out