7/8: New this week at Smoke Signals Online…
This week at Smoke Signals Online, the net's premier smoking fetish site, we've added nearly 800 new photos and 19 minutes of smoking video.
In the photo galleries, it's sisters week! First, Aymie returns and brings her little sister Emily with her. They share cigarettes as they talk about their smoking histories (among other things); Emily shows nice straightforward style while Aymie shines with her repertoire of thick mouth and nose exhales, and great smoke rings. Next, Jen C. and Mel C. sure LOOK like they're sisters – but they're not, they're just roommates, who obviously enjoy each others' company. They're also both great smokers; there are two shoots, one at the makeup table and the other just hanging out (they take turns smoking in the second shoot, since Mel is having a coughing issue when Jen lights up). In both scenes, we see terrific french inhales (Jen) and smoke rings (Mel), plus mouth exhales, nose exhales, and hands-free smoking.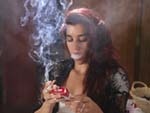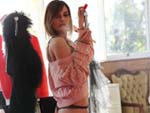 In the video gallery, sexy brunette Cipriana smokes all-whites with deep drags and thick cone exhales, as she slowly gets out of her lingerie and touches herself.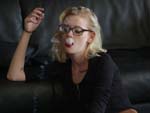 You can see a sample clip here.
And you can see free previews from all of our sites here. Come join us!