New smoking fetish videos added at Smoking Flicks….
We've added two new smoking fetish movies at Smoking Flicks – the smoking movie streaming and video download site.
NEW RELEASE – NEW MATERIAL NEVER SEEN ELSEWHERE! In the fourth IRL Platinum release, shot in HD. we have a beautiful shoot with Justina, chaining corks (and in the middle of chaining, she lights up a pair and smokes them both at once). The inhales are deep (there are also lots of multiple pumps), the thick mouth and nose exhales are luscious, and throughout, Justina has an incredibly sexy rapport with the camera. Alisha follows with a lengthy interview about her teen smoking years, chaining her way through while showing nice style including thick cone exhales and french inhales.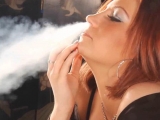 And in a new release, Bob's Video looks at the artistic side of the smoking fetish, opening with Charlie Laine; her deep French inhales, snaps and cloudy exhales have set a standard for Bob's smokers; her fabulous smoking and 'newly grown' D-cups set a high standard. In dramatic twilight, Celeste Star is gorgeous and has become a complete smoker; we see her changing her hose as she smokes, and getting distracted by her pussy. Lexi Stone captures magic and art as she smokes a Capri and flaunts her sexuality; and then talks informally to her fans as she plays with the smoke and light, and even tries a More. Finally, Charlie returns and enjoys a close-up cigarette in front of a mirror – sensual and artistic.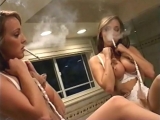 Come check them out at Smoking Flicks